Place curser over photo to pause slideshow and gaze as long as you would like at the picturesque beauty of the Parks Place.
A Walk To Remember
Your walk through life is marked with countless events to be remembered.
Baby Showers ~ Birthday Parties ~ Weddings ~ Family Reunions
Class Reunions ~ Graduation Celebrations ~ Photo Sessions
Gathering of Friends ~ Memorials
~ Your Special Event ~
You will find the Parks Place to be a peaceful country setting with a variety of unique focal points to capture the many memories of your life's journey!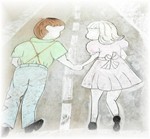 The inspiration for the Parks Place came from our son's wedding theme, "A Walk to Remember" celebrated here a few years ago. The photo shown is a chalk drawing that was on the dance floor and became the Parks Place logo.
Family and friends enjoyed the experience and suggested we make our "place" available for others to experience their own "Walk to Remember" whether it be a wedding, birthday, or other special celebration or gathering. The Parks Place has been an ongoing project over the past several years with the most recent additions being the pavilion and the completion of the kitchen, a wooden arched bridge, and several new waterfalls including one in the bridge area.
Even as we have been growing and continuing to expand our facilities, a number of people have experienced their walk here. It has been a joy for us to work with them to make their experience a distinctive and special journey down the road of life. We look forward to walking "hand-in-hand" with you to help make your "Walk to Remember" a truly memorable one!